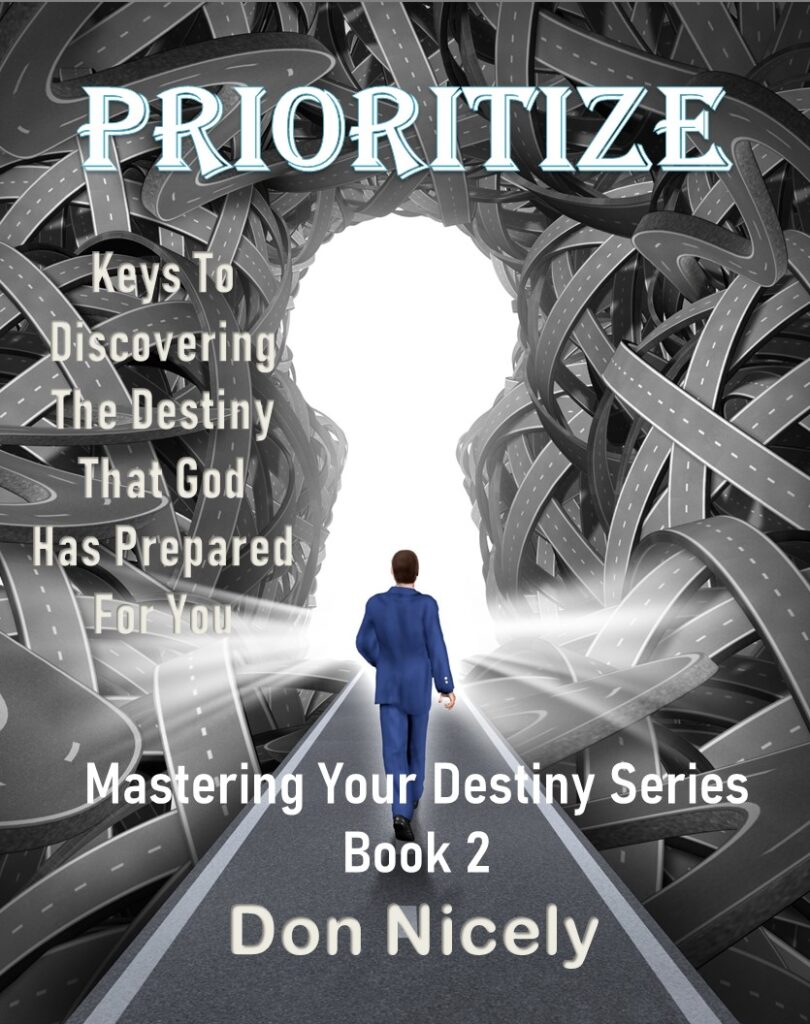 Do You Realize that God has created you for a purpose and only YOU can fulfill it!
So, what happens if you don't discover it and fulfill it?
Friends every human being ever born has a destiny given to them by God calling out to them. It is our responsibility to discover it and fulfill it.
We must be able to hear it! We must be able to put all our fears aside and not be drawn away from what God is calling us to do.
Many things in this busy 21st century lifestyle is calling for our attention. We must be willing to set aside the good things to make room for the great things of God.
You see friends God will not chase us down to get us to do his will. Instead, he just tells us what he wants and expects us to obey him.
Friends we have to learn to PRIORITIZE our lives to have God's best in it.
In the second book in the Mastering Your Destiny Series Author and pastor Don Nicely teaches you how to Prioritize your life and use the keys God gives us to find His perfect will for our life.
In the Book You Will Learn;
How to realize the destiny God is calling you to.
How to find the purpose for your life.
How to avoid the things that want to destroy you.
You have a destiny to be discovered!
How to fit all the dynamics into your destiny.
Signs that show you you're not living in God's purpose.
The six ways you can regain your purpose in life.
How to determine your gifts and strengths in life.
How to use your passions for God.
How to fight tiredness that seeks to destroy your destiny.
How to teach your children how to grow up and be servants of God.
The two ways that God uses to put your destiny in place.
How to practice the five dynamics of destiny to discover God's perfect will for your life.
Friends we are only rewarded when we leave this life for obeying God's perfect will. So, we must discover it!
Each of us are called to God's mission in the marketplace, and God's ministry in the church. We must be so careful not to put the two together.
Even though all our missions are the same, our ministries to the church are all different. And this book will help you avoid the distractions that seek to stop it! Why not get a copy today!